Kenon Coffee
Two blends for real connoisseurs: the "100% Arabic", particularly aromatic, with a persistent taste and smooth and velvety aroma, and the "Special Quality" a well-balanced blend with a strong and rich taste, with a thick and inviting cream. An excellent coffee for every moment of the day, unmatchable in leaving an intense pleasure sensation.
100% Arabic | 250 gr.
It contains 100% pure arabic quality ground coffee. It's an aromatic coffee, with a smooth and pleasant taste and a low caffeine content.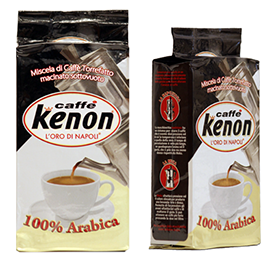 Kenon Special Quality
Rich and aromatic taste, it contains a 100% pure coffee mainly from Brazil. It has a low caffeine content, with an approximate value of no more than 1,7%
Special quality 250 g
The Kenon facility is structured with innovative and advanced manufacturing technologies to provide the market with a unique product. Our coffee roasting process yield an absolutely excellently tasting end product without the use of preservatives and dyes, also avoiding "stress" the crude product so as to preserve the original characteristics.